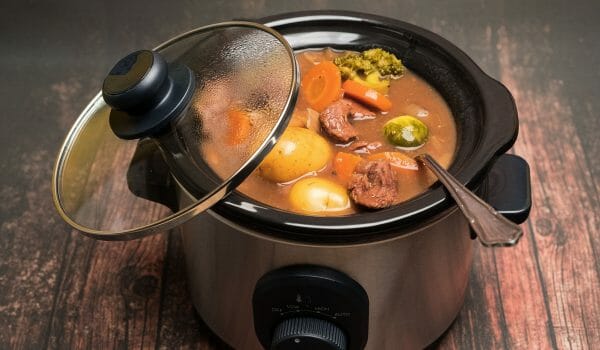 You might think of a slow cooker as a winter appliance, but although it makes amazing casseroles, stews and soups, the slow cooker is also brilliant for summer entertaining.
While you're at the beach, delicious meals can be soaking up flavour and goodness, ready to be the perfect side dish for your evening barbecue.
See below for the 5 best summer side dishes for your slow cooker:
1. Garlic Rosemary Tricolour Potatoes
Not only do these potatoes taste amazing, they also look good! A ridiculously easy side dish, all it takes is a bag of tricolour potatoes tossed in a little olive oil, rosemary and garlic and left to slowly cook over 3 – 4 hours.
2. German Hot Potato Salad
Before you leave in the morning, layer potatoes and onions in a slow cooker, and leave to cook in 3/4 cup of water for 5 – 6 hours. When the potatoes are cooked, add browned bacon and a selection of delicious herbs and spices into the slow cooker for a further five minutes for an absolutely delicious side.
3. Slow Cooker Corn on the Cob with Chilli Lime Butter
For a zingy side dish, wrap your corn on the cob in aluminium foil with a generous portion of softened butter seasoned with lime and chilli flakes. These cook on high for about 2 hours and are unbelievably delicious.
4. Slow Cooker Hawaiian barbecue baked beans
For a Southern Californian favourite, try these Hawaiian style baked beans. Infused with pineapple, doused in sugar and with a healthy portion of cajun spice, they're definitely in a league of their own.
5. Spinach and Artichoke Dip
You'll need cans of artichoke hearts, frozen spinach, sour cream, onions, parmesan and feta cheese and a few other kitchen basics like garlic, mayo and red wine vinegar. Throw it all into the slow cooker and wait for the magic to happen! Dip takes about two hours.
Remember, Nationwide Appliance Repairs is available to help should you have any problems with your appliances. Call us for a quote today!