Same Day Appliance Repairs in Glenroy
Looking for appliance repairs in Glenroy, VIC? Wondering where to find exceptional service and customer satisfaction? Look no further than Nationwide Appliance Repairs.
With our 12-month parts warranty and 3-month labor warranty, you can rest assured that our repairs are backed by quality assurance.
But that's not all – our rates are affordable, ensuring top-notch service without breaking the bank. Need quick repairs? We offer same-day service, prioritizing getting your appliances back in action promptly.
To add to your peace of mind, we provide a free consultation, where our experts can offer honest advice about your appliance's condition.
With our impressive 5-star record, Nationwide Appliance Repairs is the go-to for exceptional service. Don't hesitate – call us today and experience the difference for yourself!
Your LOcal Team
Why Choose Nationwide?
12 Month Parts Warranty
Affordable Rates
Same Day Repair
3 Month Labour Warranty
Free Consultation
5 Star Record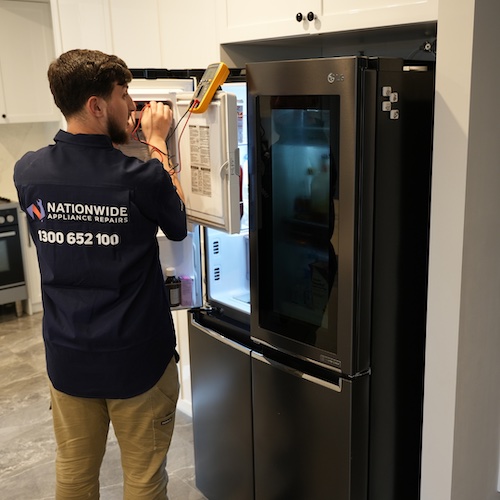 Skilled Appliance Service Professional
Are you in need of appliance repair in Glenroy, VIC? Look no further than Nationwide Appliance Repairs, your trusted source for top-notch service.
We boast a team of highly skilled appliance service professionals ready to tackle any brand or model. From residential to commercial appliances, we've got you covered.
Our commitment goes beyond repairs; our competent technicians provide honest advice about your appliance's condition, empowering you to make informed decisions. When time is of the essence, we offer same-day service if you call before noon.
We understand that appliances are vital to your daily routine, and we're dedicated to minimizing disruptions.
Join our satisfied customers who have experienced our exceptional service. With Nationwide Appliance Repairs in Glenroy, VIC, you're not just getting repairs; you're getting peace of mind. Contact us today, and let us restore your appliances to their optimal condition.






Glenroy 3046
Appliance Services We Provide
Popular Melbourne Suburbs We Service