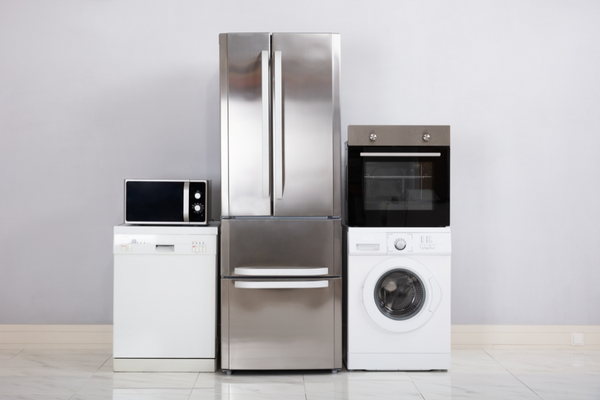 Australia has a world of home appliance brands to choose from, from giants like Samsung, LG, and Panasonic, to brands like Fisher & Paykel and Breville. Due to a large number of appliance brands and similar items on the market, it can seem like a daunting challenge to determine which to trust, especially if you're new to the market or are looking to switch to something different.
As globalization is increasing, and more foreign brands are entering the country, it's nice to learn the languages of foreign appliance brands. That's why with AmazingTalker you can connect with Online Tutors from all over the world that can teach you a vast number of languages!
Whether you need to replace a broken appliance, save on electricity, or just want to avail of upgraded functions, replacing or upgrading your home appliances can lean on the more expensive side of household purchases, so you really want to make sure that you get it right the first time around. Especially if you have a loan out on your property.
It helps to pay attentioned to reviews and the brand quality. Below, we have listed 8 of the home appliances in Australia that we believe provide excellent quality, design, and value for money.
Top 8 Appliance Brands in Australia
Coffee Machine: Breville the Barista Express
Air Fryer: Philips Airfryer XXL
Fridges: Fisher & Paykel
Microwaves: LG
Vacuum: Dyson Vacuum
Washing Machine: Bosch
Dryer: Electrolux
Dishwasher: Bosch
Source: GIPHY
Coffee Machine: Breville the Barista Express
Breville's Barista Express is an all-in-one espresso machine that allows you to make gourmet coffee at home in under a minute, from bean to espresso. For maximum flavor, the Barista Express allows you to grind the beans right before extraction. It has precise temperature control to assure excellent espresso extraction and manual microfoam milk texturing to achieve authentic café-style results like a true barista.
Breville is an Australian small appliance manufacturer founded in 1932 in Sydney. Blenders, coffee machines, toasters, kettles, microwaves, and toaster ovens are among its most popular products. The company is also responsible for Nespresso's "Creatista" coffee machines.
What we like:
Dose control grinding
The integrated conical burr grinder grinds just the right amount of beans into the portafilter every time, so every cup of coffee you get is a freshly ground one.
Precise espresso extraction
You can easily program the temperature adjustment for optimal espresso extraction by delivering water at exactly the proper temperature.
Rating: ✰✰✰✰✰
Price: 999.00 AUD
Air Fryer: Philips Airfryer XXL
The Philips Airfryer XXL uses hot air to fry your favorite food with little or no added oil. New Fat Removal technology is designed to extract and capture fat from the food, making this the healthiest way to fry for you and your family.
Philips was formerly one of the largest electronics companies in the world, but is currently focused on the area of health technology. Its Personal Health division (formerly known as Philips Domestic Appliances and Personal Care), and they've cooked up one of the best air fryer models in the market.
What we like:
The thing we love about the Philips Airfryer XXL's is the size and capacity that the name implies which the product delivers on. It can produce big batches of french fries and chicken nuggets. It can also take a party's worth of chicken wings, sausages, corn dogs, meatballs, and vegetables.
Philips Airfryer contain up to 80% less fat* and taste delicious! Also, the Philips Airfryer is easy to clean as the drawer food basket and attachments are 100% dishwasher safe and doesn't cause any unpleasant odors in your home when frying the food.
Rating: ✰✰✰✰✰
Price: 499.00 AUD
Fridges: Fisher & Paykel
Fisher and Paykel's fridges allow you to regulate the temperature and humidity of the food, as well as keep ingredients fresher for longer. You can take care of any type of food while having a matching design style to complement your kitchen.
Fisher & Paykel has been designing products since 1934 and has expanded to 50 nations across the world. The firm backs up its technology with a two-year parts and labor warranty as well as a five-year sealed systems parts warranty.
What we like:
Zones of Variable Temperature
At the touch of a button, you can regulate the temperature in each zone independently. To give you complete control over how food is stored and cared for, both pre-set food modes and manual temperature adjustments are available.
Humidity Control
The Humidity Control System maintains an ideal microclimate in each produce bin which slows down the microclimate changes in the air that contribute to the degrading of fruit and vegetables.
Rating: ✰✰✰✰✰
Price: 2000 – 3000 AUD (average standard price)
Microwaves: LG
LG was founded in Seoul, South Korea after the Korean War to provide the recovering nation with locally made consumer electronics and home appliances. Today, their products remain a great marriage of convenience and style. Convection cooking,auto sensors that pick the optimal power level for each dish, and even speed cooking options are now available in their microwave ovens.
LG microwaves can help you get more done in less time, whether you need to grab a quick bite between work and your gym, defrost food, reheat leftovers, or sneak a midnight snack. LG's microwaves come in two types: countertop and over-the-range They have clean lines, elegant designs, and up to date technology that will revolutionize the way you cook.
What we like:
Sensor Cooking
Sensor Cooking employs humidity-sensing technology to identify when food is fully cooked.It then automatically turns off the microwave to prevent overcooking.
Convection Cooking
When you choose an LG microwave oven with convection technology, it can also function as a second oven in addition to typical microwave cooking. Convection microwaves can accomplish everything from defrosting goods for dinner to baking or roasting a meal.
Rating (scale of 1 to 5 stars): ✰✰✰✰✰
Price: 300 AUD (average standard price)
Vacuum: Dyson Vacuum
Dyson is a British company that makes vacuum cleaners, air purifiers, fans, and hand and hair dryers. They feature a large assortment of stick/handheld vacuums, as well as canister vacuums and more traditional upright vacuums. They all make use of Dyson's proprietary cyclone technology, which eliminates the need for a dirtbag, regardless of design.
What we like:
Less recurring costs
Dyson vacuums are inexpensive to own for long periods of time due to their bagless construction. Some have filters that are designed to last the device's lifetime, others are designed filterless..
HEPA Filters
Dyson's cyclonic technology removes allergens, which is especially useful if you have pets or are cleaning out dust.
Rating: ✰✰✰✰✰
Price: 350 – 1000 AUD
Washing Machine: Bosch
Robert Bosch established the Stuttgart "Workshop for Precision Mechanics and Electrical Engineering" in 1886. This was the beginning of what is now a global corporation.The Bosch Group is a renowned global technology and service provider.
The brand's washing machine line is extensive, with various models to select from, including smart machines with plenty of functions, less expensive variants that are still energy efficient, easy-to-use alternatives, and machines that wash and spin surprisingly quietly.
What we like:
Peace and Quiet
Bosch washing machines can produce noise as low as 47 decibels. By comparison, the sound of the sea is still louder than that at 55 decibels.The outside world is noisy enough as it is, so knowing that Bosch technology can assist in creating a little tranquility at home is reassuring.
Allergy Friendly
When clothes aren't washed thoroughly they can contain allergens that cause skin discomfort and lead to allergic reactions. Allergies are commonly triggered by detergent residue, pollen, dust, and pet hair. Higher washing temperatures combined with extensive rinse cycles in the AllergyPlus wash program successfully eliminate allergens from garments while being gentle on fabrics.
Rating: ✰✰✰✰✰
Price: $600 (average standard price)
Dryer: Electrolux
For more than a century, Electrolux products have made housework easier. Electrolux was founded in Sweden with the goal of making vacuum cleaners lighter and easier to operate while also promoting them as a tool to enhance health and hygiene around the world.It's also a household name in the laundry industry. Among Electrolux's seven clothes dryer models are two condenser dryers, one condenser heat pump dryer, and four vented dryers. Their dryer machines decrease the formation of wrinkles on your garments with their crease-free drying and reverse tumbling technology.
What we like:
Humidity Sensors
Elecrolux dryers incorporate humidity sensors to prevent over-drying, which can harm clothing, as well as a predictive dry feature that uses sensors for timing the load correctly within the first 90 seconds of a cycle.
Steam Technology
Steam is also used by Electrolux dryers to help remove wrinkles, refresh clothes, and minimize static.This can save you a lot of time on ironing.
Rating (scale of 1 to 5 stars): ✰✰✰✰✰
Price: 800 AUD – 2,000 AUD
Dishwasher: Bosch
Bosch dishwashers are built to make the most out of space and versatility, providing you the as much room as you need to arrange your dishes and clean them more effectively. Their free-standing dishwashers look beautiful in any kitchen. They can be free-standing in the kitchen or integrated beneath the counter.
Other brands' dishwashers lack the remarkable optimizations and exquisite engineering that Bosch dishwashers have. Instead of using a ceramic rod to heat the wash water like other dishwashers, Bosch models use an in-line heat pump that is both faster and more energy efficient. The innovative sealed base muffles the sound of the pumps while also providing an additional layer of leak protection.
What we like:
Peace and Quiet
Bosch was named the quietest dishwashing brand in the United States in a 2020 test, with impressively low decibel levels. Their dishwashers are so silent that they even have a light that illuminates on the floor just to let you know when it's on.
Patented Leak protection.
Bosch dishwashers are equipped with cutting-edge technology that keeps water contained in the case of a leak, giving you peace of mind even when you have to leave the house.
Rating: ✰✰✰✰✰
Price: 800 AUD – 1500 AUD
Conclusion
Still undecided?
Source: GIPHY
When it comes to running a modern home, home appliances are a must-have because they increase your quality of life by making things easier. Now you know about each must-have appliance and the best brands for them. Keep in mind that great appliances will not only provide you with excellent service for a long period of time, but will also be less expensive in the long run.
Investigating and learning more about which home appliance is perfect for your home, is crucial. Similar to that, learning languages is crucial and can boost your self prospect. Learn more languages with one-on-one English Tutors, and more! Start your language learning journey today!