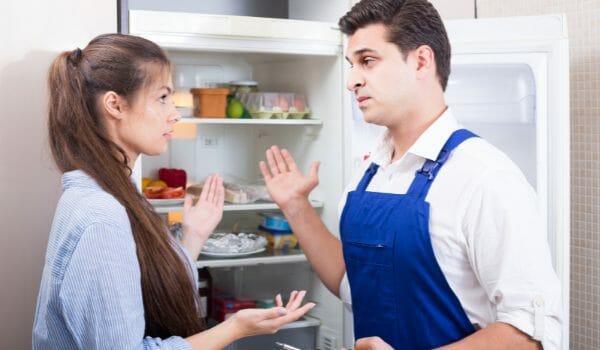 The refrigerator is one of the most common appliances in your home. It will be a serious inconvenience if anything goes wrong with it. But often it fails to work as expected.
There are common problems associated with refrigerators and we show you how you can fix them.
Your refrigerator is overrunning     
The refrigerator runs until the temperature in its chamber reaches the thermostat level that you set, then it stops. It starts to run again when the temperature rises.
So if you find that your fridge is running continuously, it means it does not reach the desired cold temperature.
We highlight some of the causes and how to fix the problem.
A refrigerator door that is left open too frequently will make the refrigerator to overwork. Think beforehand about what you want to take from the refrigerator. Pick it and close the door immediately.
If the door or seal does not properly close against the refrigerator box, you have a problem.   Find out if the hinge – a round pin at the bottom of the door that goes into a circular hole – is worn out. Apply a little Vaseline to it and see if the situation improves. If it doesn't then replace hinge.
Does something block the circulation of cold air in the chamber? Remove any items that block the vents at the back of the freezer chamber.   Bread, ice cream boxes and other items you put in the freezer chamber might just be the problem.
Puddles of water under the fridge
Puddles of water under the refrigerator are an indication of leakage. The leakage occurs when the defrost drain is blocked and there is a buildup of ice and eventual leaking of water out of the refrigerator.
To fix this, use warm water to flush the drain that is inside the freezer. If this fails to work, inspect the check valve to see what is clogging it and remove it manually.
If you need more help with your refrigerator maintenance, seek the services of professional repairers.