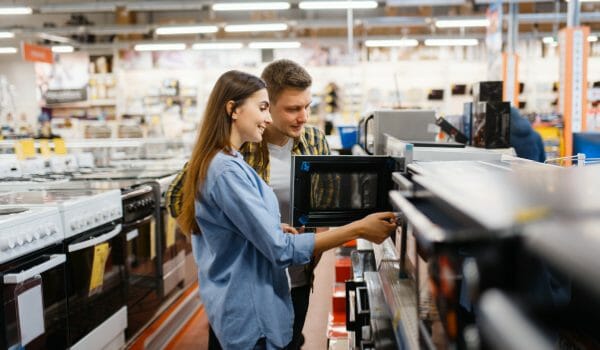 Buying a new oven is an exciting task, but the choices are endless when it comes to design and features. Here is our list of what to look for when buying a new oven.
Gas or
E
lectric?
Whats the difference between gas and electric ovens? A gas oven has a naked flame on the hob, and an electric cooker uses electricity to heat hot plates.
Usually, the oven will work in the same way, but there are dual-fuel options available that combine gas hobs with an electric oven.
Chefs like gas burners as they feel better able to control the temperature. Electric plates take longer to heat up.
When it comes to the oven, electric ovens are considered to have the evenest distribution of heat. Often, whether you choose gas or electric will be determined by where you live, and the availability of gas in your area.
Features
Ovens come with many features, but a few simple things make all the difference. Programmable auto timers will let you set your oven to start and stop even if you're out.
Glass windows are important as they allow you to check your cooking without opening the oven and allowing the heat to escape. These have been developed to reduce the cloudy, greasy build-up that so often forms on oven doors.
Self-cleaning features are a great feature for your new oven. The newest ovens have pyrolytic cleaning systems that clean the interior of the oven at high temperatures.
Double ovens are good for cooking for large groups. They are exactly what they claim to be – two cooking spaces instead of one. This means that your roast can be on one side and your side dishes on the other, at different temperatures.
You can customize these according to your needs – 2 full-size ovens or one large and one small. They often come with heat sensors and different cooking modes. The most important considerations when considering features are your needs, space and budget.
It's easy to get carried away with features but only invests in ones you're likely to actually use.
Brand
It's always best to choose a top, reliable brand when it comes to appliances. These will be easy to service and repair when necessary and come with a good guarantee.
Every appliance has an energy efficiency scale – this is worth checking before you make your final choice.
If you come across any issues with your new or old oven, Call our oven repair specialists at Nationwide Appliance repairs.