With our lives becoming busier every day, home appliances have become quite critical in making our lives more comfortable. Whether it's our washing machines, refrigerators or dishwashers, all these make life simpler and more convenient.
Unfortunately, appliances are prone to wear and tear and breakdowns and sometimes can get damaged because of different reasons. When any of them breaks down, it puts us under so much inconvenience and can really disrupt your daily routine.
At such times, you need prompt and efficient repairing services to get the appliance working optimally again.
However, repairs are such a sensitive matter and require a high degree of expertise. Repairing the appliance yourself or hiring unqualified technicians to do the repair can further aggravate the problem instead of rectifying it.
That's why you must take precaution when choosing a repair technician to repair your appliance. Below are some of the factors to look out for when hiring an appliance repair service provider.
1. Expertise
The first factor to look out for is the expertise of the repair company. The quality of repair service provided depends on the knowledge and skills of the repair technicians.
Therefore, you should check if the team at the repair company is well-equipped with the needed expertise and whether it has the necessary skills and knowledge.
Check if the company has factory-trained technicians and whether they keep their technicians updated with the latest training and technologies in the appliance repair industry. Also, check whether the technicians are fully certified.
2. License and Accreditation
When hiring a repair company, you need to ensure that it has all the necessary licenses and certifications to carry out appliance repairs. Proper licenses show that a company is certified to work in your area and is a qualified technician.
Just like you wouldn't want to be treated by a person without a medical license, don't choose a company that has no proper licenses and accreditations to fix your appliances. When a company is accredited, it shows that it is trustworthy and reliable.
3. Customer Service
It's also important to consider how technicians interact with customers and the quality of service. A company that considers customer satisfaction as their number one priority is the right company to hire.
This is because they will ensure that you're 100 percent satisfied with the repair service in terms of quality, promptness, value for money, and communication. There's nothing more frustrating than waiting for a technician all day, only for them to fail to show up or cancel when they have already wasted your time.
Therefore, as you compare different repair service providers, check who is offering customer-centric services. A customer-centric technician will treat you and your home with respect, arrive in good time and do a good job.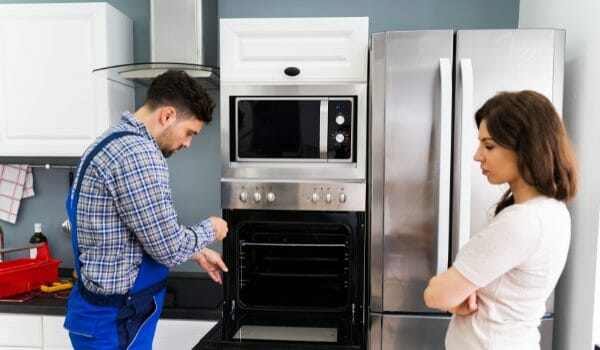 4. Warranty on Labour
Imagine getting your oven repaired today, only for it to break down again after a few weeks with the same problem. Of course, no one would want to find themselves in such a situation. To make sure it doesn't happen, always check if the repair service provider offers a warranty on their service.
A good, ethical repair company always warranties their work. If they offer a warranty, it shows they are confident your appliance will last a long time.
Additionally, in case the appliance breaks down again, you won't have to pay for the repair again. Also, check the length of the warranty and put that into consideration when making your decision.
5. Response Rate
You cannot predict when your appliance will break down or get damaged. But when some of the most critical appliances such as refrigerator and oven break down, you will need prompt repair service to prevent any further inconvenience.
While sometimes you might need to wait for good service, you shouldn't have to wait for days.
Therefore, ensure that the repair service provider is reliable and has a fast response. You may also want to look for a company that has 24/7 emergency service.
6. Cost of Repair
There is no fixed cost standard set for any appliance repair. This means a repair company can charge as much or less as they would like. Therefore, ensure you get a quotation and ask them to explain the bills.
The repair service provider must be transparent in their billing to prevent confusion and ensure you don't overpay for the repair. This will also make sure that there are no hidden charges. Get quotes from different companies to compare the costs then decide on the one fits your budget.
7. Level of Experience
The level of experience is another crucial factor to put into consideration when hiring an appliance repair service provider. It's imperative that you hire a service provider who has experience in dealing with different brands.
Knowledge in different brands is vital because each brand has various unique features that must be handled uniquely. If your washing machine is not working, the washing machine repair professional you hire must have experience in repairing the washing machine brand you have in your home. Experienced technicians can also advise you whether it's better to buy a new appliance or repair the one you have.
8. Reputation
It's very important to consider the reputation of the appliance repair service provider. You can get feedback from previous clients as well as online reviews.
Make sure you hire an appliance repair company that has built a good reputation by rendering quality repair services.
9. Spare Parts
This is also a vital factor to consider because sometimes repairs may involve replacing some of the parts. Therefore, you should check to ensure that the repair company deals with genuine repair parts.
This will ensure the parts last for long and will help you cut down on repair costs. Also, ensure that they offer a warranty for the parts.
10. Availability
If your job requires you to work normal business hours, it can be hard to find a repair provider who will fit your busy schedule.
Therefore, inquire about the company's availability and determine if they can fit your schedule.
You don't need to take a day off in order to have the repair professional come repair your appliance. Instead, look for a repair provider who fits your schedule, whether it's evening or weekend.
11. Insurance Cover
It is also important to check if the company is insured and if the insurance covers injury to a person and damage to property that may happen during the repair process. It's a good idea to have yourself covered from accidents that may occur during the repair service.
Such cases, however, are usually rare with professional repair technicians.
When hiring an appliance repair service provider, you want to hire the one you can trust to repair in a timely manner, for a reasonable price, and ensuring quality.
Therefore, before you choose the repair company, consider all the factors discussed above to determine the right one. A nice place to begin your search would be to ask around. You can also research online and check online reviews. Do not rush because a hasty decision could end up costing you more.
If you're looking for a dependable appliance repair company that meets these requirements, Nation Wide Appliance repairs is the best in the appliance repair industry. As a nationally certified appliance repair company, we are trustworthy, reliable, and we provide quality repair services across Australia. Don't hesitate to call us if any of your appliances need repairs.