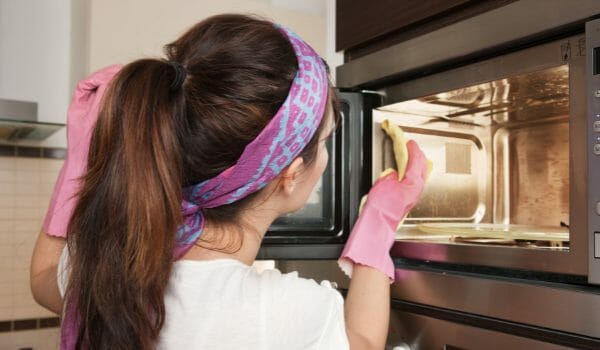 Cleaning an oven is one the most dreaded jobs in the kitchen. With a build-up of food residue and grease, getting the job done can be quite challenging and can take a long time.
In fact, this job can be harmful to you due to the dangerous chemicals used for cleaning. Such chemicals can cause burns to the skin, damage your lungs if inhaled, and can be deadly if swallowed.
On the other hand, the self-cleaning function can be very stinky, and the fumes released in the process can be harmful to birds and small pets.
That's why most manuals advise you to clean your oven in well-ventilated areas and keep the doors and windows open. Though the self-cleaning feature does all the dirty work, the heat of a self-clean cycle can cause more problems than help.
But all in all, cleaning your oven is a job you can't avoid because you have to ensure hygiene in your kitchen.
Therefore, this article provides a safe and efficient way to clean your oven properly. With the right knowledge and tools, oven cleaning shouldn't be an overwhelming chore.
Why It's Important to Clean an Oven
Keeping your oven clean is the most important action when it comes to taking care of an oven. From general hygiene to ensuring efficiency, there are many reasons why you should keep your oven clean.
Hygiene – A dirty oven poses the risk of contaminating food with grime, grease, and old food debris which will give the food an unpleasant flavor and can cause health risks.
Safety – The build-up of dirt, grease and baked food poses a greater risk of fire and oven damage. In addition, an unclean oven can be a home for bacteria.
Durability and Efficiency – Cleaning your oven regularly increases its lifespan and efficiency. How clean an oven is can determine how long it takes to pre-heat, how heat is distributed during cooking, and how long it takes to cook a meal.
How Often Should You Clean Your Oven?
Generally, you should clean your oven regularly to ensure optimal performance. This could, however, depend on how often you use your oven.
If you're an avid cook or baker who uses the oven frequently, consider cleaning the oven once every three months.
If you rarely use the oven, cleaning it twice a year should suffice. However, there are a few signs that can tell you when your oven needs cleaning.
The first sign is the general appearance. If you notice residue or crust on the bottom or some grease on the door, then it might be time to clean your oven. 
The second sign is smoke. If your oven smolders, it's a sign of buildup hence you should clean it. The other sign is the odor. If you notice a foul smell when you fire your oven, it could be a sign that there's lingering grease, food or dirt inside.
Cleaning the Oven
Essential Products
There's a wide variety of cleaning products available in the market. However, for oven cleaning, you need products that won't cause damage to you or the oven. You will need:
Gloves
Sponges/ damp cloth
Water
Bowl
Spray bottle
Baking soda
White vinegar
Towels/Newspapers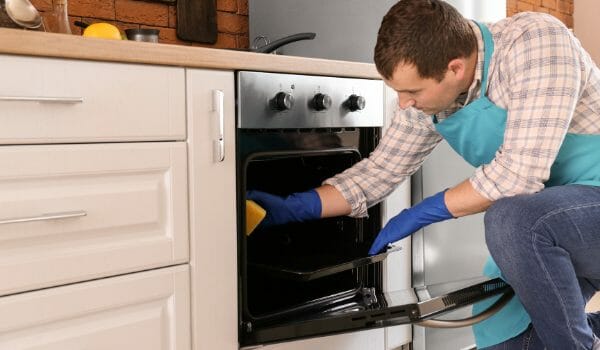 The Process
Empty the oven – Remove everything from your oven, including the racks, thermometer, pizza stone, etc.
Soak the racks overnight or for at least 12 hours – Put the racks in a sink with warm water and add some baking soda and vinegar. Let the racks sit for at least 12 hours or overnight.
Layout paper towels or newspapers beneath the oven – The towels will prevent water from spilling all over the floor, especially under the oven.
Make a cleaning paste – Take a small bowl and mix a ½ cup of baking soda with water to make a spreadable paste. You can increase or decrease the baking soda and water depending on the size of your oven.
Spread the paste – Once the paste is ready, put on your gloves so you can spread it. Using your fingers smear the paste inside the oven, covering the top, bottom, back, sides, corners, crevices, and door. For an electric oven, don't spread the paste on the heating elements and for a gas oven, do not spread the paste where the gas comes through. Pay extra attention to the greasy areas and dirty nooks.
Allow the paste to sit for at least 12 hours – Once you've applied the baking soda mixture, let it sit overnight or for at least 12 hours.
Wipe out the oven – Once 12 hours have elapsed, wear your gloves again and take a sponge or damp cloth rag. Open the oven and wipe out the paste from all surfaces. If you notice extra sticky spots, use a wet sponge or abrasive tool to remove the grime.
Use vinegar to remove the paste that won't come off easily – If some chunks of paste just won't come off, put some vinegar in a spray bottle and spray it on the paste. Vinegar is ideal as it reacts with the baking soda to form foam. Wipe the foam using your damp cloth until it's all off.
Clean and dry the racks – Remove the racks from the water and scrub all the grease and grime using a cloth. In case of any tough spots, use the microfiber sponge. Once the racks are clean, dry them completely.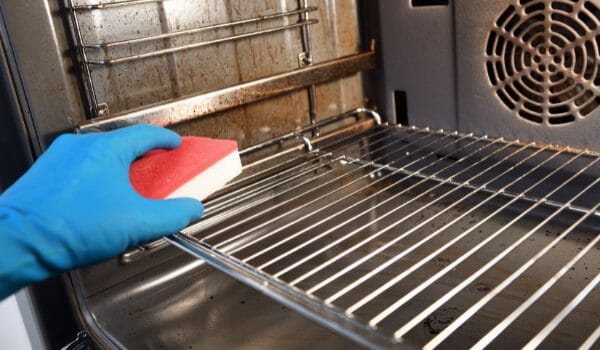 Put back everything – Now that you're done with cleaning, replace everything you had taken out of the oven.
Take the newspapers/towels and clean any water spilled on the floor.
Keeping Your Oven Clean
Once your oven is sparkling clean, it's important to keep it that way. Here are a few tips on how you can keep your oven clean for a long time.
Whenever you're cooking, make sure you line the bottom shelf with an oven sheet or foil to catch the food that may fall.
Remove the tray from the oven to prevent grease from splashing inside the oven
Always wipe the oven with a damp cloth after cooking to remove loose dirt and grease
Clean up spills immediately using a damp sponge. You can also use salt or vinegar!