We all know that the process of moving to another home is quite challenging and tiresome.
Huge furniture items such as sofas, cupboards, wardrobes, and dining tables are probably the first items that you see when you think about the big and bulky items you have to move.
However, they are not the only items you worry about. Large and heavy household appliances are not a joke either.
Packing up appliances is one of those things you wish you didn't have to do. Most of them are expensive and bulky hence require special care and attention when handling them.
They may easily get damaged, injure you or even damage your new home's floor.
So, how do you move your household appliances easily and safely? Below are some tips that can help you.
Decide if You Should Move Your Major Appliances
Before you start packing your appliances, it's important to decide if it's a good idea to carry them in the first place.
Sometimes it can make more sense to leave or dispose of an appliance than to bring it with you to your new home. To help you make this decision, consider the following points.
Carry the appliance if:
It's new or recently purchased
Your new home is not already fitted with the appliance
You're used to its functionality
Your current home agreement does not permit you to leave any appliance behind
Don't take the appliance with you if:
It's old, outdated or non-functional
Your new home has different layouts and designs that won't allow your appliances to fit seamlessly
Your new home is fitted with better appliances
Once you have decided which major appliances to leave behind or dispose of, and which ones to take with you, it's time to start preparing.
Preparation and Planning
Preparation is the most crucial part of moving your appliances.
Be sure to have a plan and prepare early and adequately for the transportation of your appliances to avoid damage or injury
Prepare the appliances
Disconnect all your appliances at least 24 hours before the moving day. Empty their contents and clean them thoroughly.
Let them dry out well and keep the doors open. Pack all the removable parts separately.
Secure proper equipment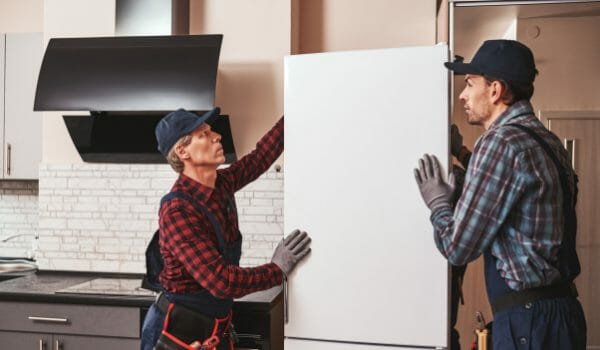 Don't start moving your appliances without the right moving assistants. Get a hand truck or appliance dolly, furniture straps, furniture blankets, and sliders.
Also, get some protective gear such as leather gloves and slip-resistant boots. Using proper equipment helps prevent injury and damage.
Clear the path to the door
Moving large appliances can become much harder if the route is cluttered with other household items such as furniture and boxes. Therefore, establish a pathway wide enough for the appliances. Make sure there's nothing that can impede your safety and disrupt your schedule.
Protect the floor
Once you have cleared the path, you should lay down a protective covering on the floor. Hardwood, vinyl, tile, and carpeted floors are more prone to damage than other floors. You can use protective sheets of polythene, thick cardboard or leftover carpet pieces to cover the floor.
Moving Individual Appliances
Depending on the appliance, special precautions may be necessary.
How to move a washing machine
Once you have unplugged the washer, turn off the water supply and drain all hoses. Attach the power cord and hoses on the machine using tape, so they don't come off during transportation.
Clean the filter and the interior of the washer with a soft and dry cloth
Pack the machine in its original packaging or use a secure alternative. You can cover the machine with thick moving blankets to protect it and the floor.
Lift the machine onto your dolly and transport it. Make sure it stays upright.
How to move a fridge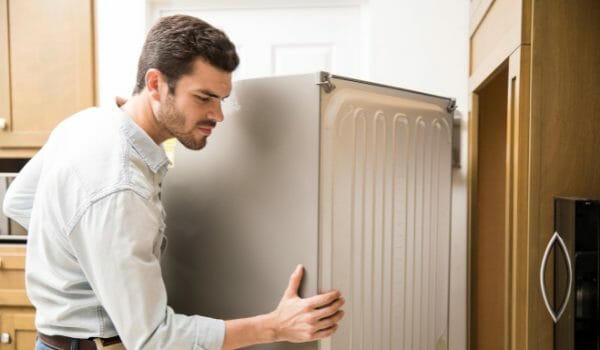 Start by emptying your fridge and if it has a freezer leave it to defrost for 6 to 8 hours (leave a towel to soak up the water.) Pack the food separately as well as the detachable parts.
Turn the fridge off and unplug it, then coil the cable up and tape it to the fridge
Tie a bungee cord or rope around the fridge to secure the doors.
Wrap the appliance with thick moving blankets and load it on the moving dolly.
During the transport, ensure the fridge stays in an upright position. Avoid laying it on its sides or tipping it excessively as this may damage your appliance.
At your new home, let the refrigerator stay unplugged for a few hours to allow the oil in the compressor to settle.
How to move an oven
Ovens can be tricky to move, especially if they are mounted to a wall. In addition, if you have a gas oven, it becomes more dangerous. Therefore, it's best to contact a qualified technician to disconnect and secure the gas line properly.
For an electrical oven, turn it off at the socket and remove the plug, and tape it to the oven. With a gas oven, switch off the main valve of the attached gas line.
Remove the detachable parts including the shelves and hob grades and pack them separately with protective packaging or towels. If it has a glass section, protect it well using bubble wrap.
If you have protective blankets, wrap them around the oven and place it on the moving dolly.