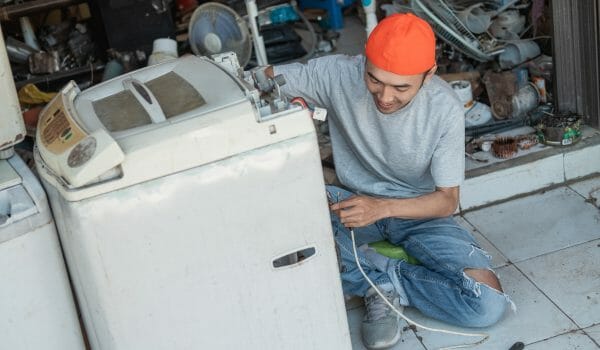 How long should your washing machine last?
Popular opinion says the average washing machine should last around 11 years. Usually, we don't ask ourselves this question until our washing machine breaks and we have to make the decision to have it repaired or replace it.
If your washing machine is 8 years old or more, you should consider the cost of repair vs. the cost of replacement, but it's worth taking into consideration your unique situation before acting based on the "average."
Here are some questions to ask yourself before replacing or repairing your washing machine.
What are your usage habits?
The "average" is worked out based on about 7 loads a week. If you do more than this, your machine is likely to need replacing before the 8 – 11 year norm.
This also applies if you tend to overfill your machine. On the other hand, if you have a lighter usage you can expect your machine to last longer.
Another factor to consider is whether you've had your machine serviced regularly, as this will add years to its lifespan.
 Is it a quality brand?
It's worth googling the brand of washing machine you have to find out what the manufacturers suggest the average lifespan might be.
Indesit, for example, says their machines should last around 8 years, while Miele reckons theirs should last up to 20 years. As a rule of thumb, cheaper brands will have a lower life expectancy. What do you say?
Do the maths
If you have a quality brand and not overused or overloaded your machine, you should be able to work out whether you have a few more years in your machine or not.
If you have a cheaper brand and use it a lot, it might be time to consider a replacement.
It is always worth doing the homework to choose the right washing machine for your needs. This will ensure a longer lifespan and better customer satisfaction.
A final thought
it's not just a financial decision you're making. Not all washing machines are created equal, and some are designed to save you energy and water which also benefits the environment.
Millions of white goods end up in landfills or on our footpaths every year. If you can make yours last and it's energy-efficient, it's a gift to your bank account and the planet.
Call Nationwide Appliance Repairs today, and let the experts advise you!